The San Antonio Spurs are currently first in the NBA with a record of 47-10 and are playing like an elite team. The obvious reason for that is due in large part to a healthy "Big Three." However, another reason why the Spurs are playing their best basketball in years is their reserves.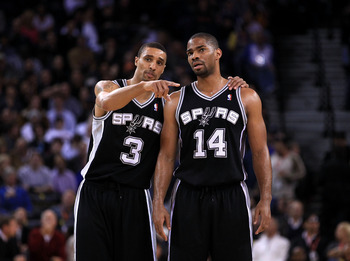 This year, the Spurs have arguably the deepest bench in the league and has made a huge difference for the Spurs this season.

But with the stretch run underway, two young players could play vital roles in the Spurs' playoff success this season -- George Hill and rookie Gary Neal.
Let's talk about George Hill first.

After a phenomenal sophomore year, the third year guard knows exactly what his role is and does it well, he is a reliable scorer off the bench and a capable defender. This season Hill has solid averages of 11 points, 2.9 rebounds and 2.3 assists in 27.5 minutes of play.

One area of his game that has improved a lot is free throw shooting. This year Hill is making 87.3% of his foul shots compared to just 77.2% last season. With his ability to attack the lane and his long wingspan, he has the ability to draw fouls from opposing players that guard him. 

Another good thing about Hill is his versatility, he can play both guard positions and is the closest thing to a lock-down perimeter defender for the Spurs. This means he can fill the backup point guard spot or play along side Tony Parker. His consistent play on both ends of the floor have certainly helped the team win some games.

Even his appearance in the starting lineup against the Washington Wizards did not seem to bother him as he scored 18 points and three assists in his only start of the season and gave Ginobili's aching body some rest.

If Hill can give Parker much needed rest in some games, and at the same time provide additional firepower and defensive tenacity off the bench, that will be huge for the Spurs.
What about Gary Neal?