. . . and put Manu Ginobili back on the bench.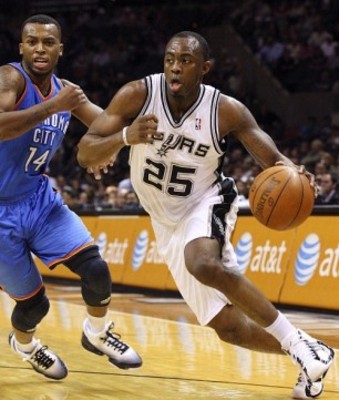 It's not what you were expecting to hear because Manu is well Manu, Anderson played sparingly in 26 games, especially when he came back from injury, and Richard Jefferson is considered the weak link in the starting five depending on what you think of whoever is starting at the five spot.
Last season, there was a log jam at the two spot, and because of his injury, Anderson was the odd man out. Once Anderson went down, Gary Neal flourished in the back up role at the two. Now that George Hill has been traded, the Spurs don't have a back up to Tony Parker, and as we just covered, Neal spent way more time playing the two and - Lord help us all - the three (if Neal is 6'4" I'm next in line to replace David Stern as NBA Commissioner).

Putting Neal and Anderson in the backcourt together without Hill or Parker probably isn't the best idea. Making Neal the starter would pretty much kill any chance you have at improving defensively on the perimeter, something our man Paul Garcia wrote about in his terrific piece on Neal's Room For Improvement.

So what's the most logical move? Make Anderson your starting shooting guard and have Manu and Neal be the back up backcourt. Manu is still going to be the first guy off the bench, which means Anderson or Jefferson will be the first guy to the bench. Making this roster will also save the Spurs from having to spend a sizeable chunk of whatever free agency money they have on a back up point guard and then they can spend all of whatever cash they have on finding another big man.