The San Antonio Spurs have been reportedly "unusually aggressive" in the trade market this season, and adding a backup for Kawhi Leonard remains a pressing need for the 40-15 Spurs, who sit 3.5 games behind the Oklahoma City Thunder.
Leonard has missed 38 games in the past two seasons, and the Spurs' rotation is pushed to it's limits when Leonard misses extended time -- Danny Green and Marco Belinelli can cover in a pinch, but there are plenty of defensive matchups they still aren't physically able to tackle..
no comments
Shots fired. Shots fired. Boston Celtics Legend and Hall of Famer Bill Russell expressed his feeling towards LeBron James Mount Rushmore picks of all-time greats. During All-Star Weekend, James went ahead and named his players and to the dismay of Russell, he was not named by James.
James picks were, Michael Jordan, Magic Johnson, Larry Bird and Oscar Robertson. Only four players? There is five and James made sure to let everyone know that he would "for sure" be one of the top four whom have ever played the game.
Sunday evening during the All-Star Game, Craig Sager read a quote from Russell whom gave his response to James' Mount Rushmore picks.
no comments
It is never easy to see your team being hit with the injury bug as much as the San Antonio Spurs have been dealt with so far this season. Though we do not like it when it happens, this does bring out some good to the team. With injuries this season to Manu Ginobili, Kawhi Leonard and now the possible shutdown of Tony Parker until he reaches 100%, the second players are being called upon more and more and they are stepping up.
One player in particular is Patty Mills. Mills has been on a recent tear lately for San Antoino off of the bench. What can be seen is the hard work that he puts in when his number is called. Against the Los Angeles Clippers on Tuesday night, which started the second half of the Rodeo Road Trip, he led off the bench with a team high 25 points in 27 minutes.
no comments
Minus Tony Parker (rest), Tim Duncan (rest), Kawhi Leonard (injury), and Aron Baynes (injury) in Portland on Wednesday, Patty Mills put on an encore performance with 13 points in the fourth quarter to help the Spurs hold off the Trail Blazers, who were missing LaMarcus Aldridge, 111-109.
For the Spurs, they would start their 24th starting lineup of the season, while the Blazers were changing their starting lineup for the first time this season. Mills led San Antonio with 29 points, Marco Belinelli scored 20 points, Manu Ginobili and Danny Green both scored 16 points each, while Tiago Splitter returned from a four-game injury absence with 15 points, and Boris Diaw finished being the Spurs' sixth player in double figures with 11 points.
Damian Lillard (31 points), Mo Williams (19 points), and Wesley Matthews (18 points) would also keep the Blazers on the Spurs' heels as San Antonio held on to win the game, by making free throws. For a full recap, visit Spurs.com. Here were some key points in the Spurs' 40th victory of the season.
Mills thrives once more in fourth
no comments
As the San Antonio Spurs and Portland trail Blazers get set to clash tonight, Project Spurs' Quixem Ramirez spoke with Blazers blogger Dane Carbaugh of A Young Sabonis to breakdown the game.
Portland is 7-8 in their last 15 games, and they've been crushed defensively (27th in DefRtg) in that span. Is this trend worrisome?
Absolutely. They've really struggled lately and it's in large part to their fairly mundane strategy on defense and their lack of execution. They play really low ICE pick-and-roll defense and it's meant they've given up a lot of midrange jumpers rather than simply forcing them. That's a key difference I don't think they've realized yet and it's really hurt them since mid-January. Percentage-wise, they are a top three team in defending the rim which sounds great on paper. However, opponents are taking the second-most shots at the rim against them in the league while shooting 55 percent. Their defense is so porous that they are relying on their posts to try and help defend at the rim from the wing instead of using their help defense as a last resort. I honestly do think they need to play tighter off the pick-and-roll but I doubt Terry Stotts makes that change.
no comments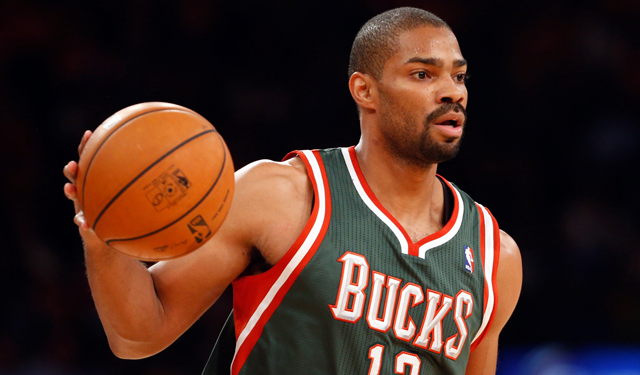 • Former Spur Neal could be headed to conference rival | Gery Woelfel
Former San Antonio Spurs guard Gary Neal has been on the trade block in Milwaukee since his locker room argument with teammate Larry Sanders. The Bucks may have found a potential suitor and Neal could be packing his bags in the next 24 hours. According to a tweet from Racine Journal Times columnist Gery Woelfel, the Oklahoma City Thunder have some interest in adding Neal.
Many foresee a Spurs-Thunder Western Conference Finals, and Neal could give the Thunder much more than another sharpshooting guard, which they already have with Reggie Jackson, Jeremy Lamb and Derek Fisher. Perhaps the Thunder could be interested in the corporate knowledge Neal acquired in his time in silver and black.
• Spurs announce changes to upcoming broadcast schedule | Spurs.com
The Spurs-Pistons game on Wednesday, Feb. 26 will now be broadcast on FOX Sports Southwest with tip off scheduled for 7:30 p.m. The Spurs-Lakers game on Friday, March 14 will now be broadcast on KENS-TV with tip off scheduled for 7:30 p.m.
no comments
The San Antonio Spurs (39-15) will face the Portland Trail Blazers (36-17) tonight in Portland as the Rodeo Road Trip rages on. However, they will have to hit the court without Tony Parker who is resting for an indefinite period of time.
The Spurs are coming off a 113-103 win over the Clippers in Los Angeles.Tim Duncan finished with 19 points, 13 rebounds and seven assists in the win.
The Blazers are coming off a 117-122 loss to the Clippers. LaMarcus Aldridge led the Trail Blazers with 25 points, three rebounds, three assists and one steal.
And as the Spurs look to get another win over a West power, here are five things to watch for in tonight's game:
Blazers' Damian Lillard, LaMarcus Aldridge and Wesley Matthews all had 20-plus point games in both matchups against San Antonio this season.
no comments
"Rough" is an appropriate description for the first two-thirds of the San Antonio Spurs' season. A plethora of injuries has forced Coach Gregg Popovich into meshing together oddball rotations (22 different starting lineups) and assigning important minutes to no-names and fading veterans. The starters that opened the season for the Spurs have since missed a combined 43 games due to injury. And to no one's surprise, Sixth Man candidate Manu Ginobili is up to 11 games missed all on his own.
The much needed break provided by the All-Star weekend has passed and the Spurs are finally starting to recover from the injury bug that rampaged through the club. There are still many concerns to be handled but time and the league won't wait for San Antonio to regroup. The Spurs still have a long stretch of road before they reach the playoffs, so here are the good and the bad from the Spurs remaining 2013-14 schedule.
no comments
If Charles Barkley talking about San Antonio's women isn't enough to get Spurs fan's blood boiling, Dallas Mavericks owner Mark Cuban's jabs are definitely enough to get it past the boiling point.
During an interview SportsDayDFW, Cuban as he has shown in the past, expressed his "love" for San Antonio's River Walk.
Cuban was asked about teams Mavs fans love to hate. He states first that the fans hate the Miami Heat, but you just had to know he took the opportunity to lob another insult San Antonio's way.
no comments
While NBA fans enjoy seeing the leagues elite/popular stars going against each other in the glorified scrimmage where defense is optional for three and a half quarters, the San Antonio Spurs were watching the game thinking, please don't let Tony Parker tweak his back or have another injury.
Parker returns to the Spurs, as the finish their Rodeo Road Trip, with out any set back.
no comments