You can't go a week without seeing some sort of list ranking the best point guards in the NBA. It's an ongoing debate in the NBA. This is due to the high number of great point guards in the league that are not only competent but they are able to be the best player on a playoff team.

Everywhere you look someone has their version of the top five. Friends debate lists and writers put out their own lighting up forums with flame wars with fans defending their guys. But often San Antonio Spurs' Tony Parker isn't mentioned in a top five point guard list.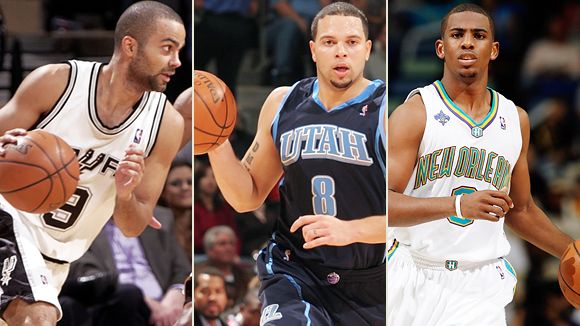 It's rather curious to me that the most accomplished point guard in the NBA under 30 isn't frequently included on anyone's list and the bulk of the top five is under 30.

A three-time champion and former NBA Finals MVP, who just a couple of years ago led the NBA in points-in-the-paint, will garner a facial expression like you just pulled some ones hair if you put him in your top five. How is this possible?
Like a lot of stars who have been playing for a decade or more they are taken for granted. People kind of let them slide to the back of their mind. We all do it with athletes of every sport, and it's seemingly been done to Tony Parker now. They see a typical stat line of 20 points and seven assists and shrug it off because it's expected. People always want to see fresh, young, exciting talent full of promise. It stokes their imagination and wonder where this athlete could end up in his career and what great things could he accomplish. Thus is the business model of sports. Older consistent players are pushed aside for younger and more exciting players on the highlight reel. This is how those lists get warped. People fall victim to the marketing pushes of ESPN and flashy colors and it affects their judgement. Even seemingly intelligent writers fall victim to it.
This wasn't always the case with Tony Parker. Tony's name used to be on any list when talking about dynamic young players with loads of potential. Tony's tear-drop was one of the most talked about shot's in the NBA. Kids tried using it in playground games and people would add in comments when talking about him like ''Did you know his dad is American but played pro ball in Europe?'' to let everyone know they knew some obscure fact about this rising star.

His coming out party was really in the 2003 NBA Finals against the New Jersey Nets. He showed the world how good he was matching up against Jason Kidd at his absolute apex and outplaying him in game three so clearly that at the post-game presser a reporter asked Kidd if Parker was better than him. This was All-NBA Defensive team and best point guard in the world Jason Kidd! The buzz couldn't have been louder for a young, promising player.
Tony's star has dimmed a bit in recent years. With the Spurs recent lack of playoff success and his injury plagued season last year. His nasty divorce with Eva Longoria isn't helping him garner any top point guard mentions either. A basketball player is ill equipped to handle these types of star divorces as Longoria has all the PR people and industry connections to get out in front of the story and capitalize on it. She can literally dictate the story, and has. This can make someone look like a villain and probably has made him one in some people's eyes. I'm sure this has influenced some writers opinion of Tony Parker the player whether consciously or unconsciously.
When I look around the league I only see six point guards who could run a championship team: Rajon Rondo, Chris Paul, Deron Williams , Chauncey Billups, Steve Nash and Tony Parker, but not necessarily in that order.

That's the list. Everyone else is either too inexperienced or too old. Until Russell Westbrook or Derrick Rose win a playoff series or have such outstanding regular seasons, they have to be mentioned in such lofty company then they shouldn't be mentioned. Tony Parker is objectively one of the top six point guards in the league.

He is the second scoring option on the leagues best team among other accomplishments. The reasons for him to be left off any list may have more to do with intellectual laziness and spite than any real basketball analysis. Let's hope the masses come to their senses and include this potential Hall of Famer in the best point guard discussion.

Follow Jake on Twitter @upstait