The San Antonio Spurs (47-10) will host the new look New Jersey Nets (17-40) at the AT&T
Center tonight. The last time these two teams faced each other, the Spurs won 102-85 in New Jersey. In that game, Manu Ginobili paced the Spurs with 22 points.
For the Spurs, they will be looking to maintain their league-leading record and continue their dominance over the Nets in San Antonio as the Spurs have won eight straight over the Nets in San Antonio. The game will give the Spurs their first look at new Nets player Deron Williams who will be making his debut.

For the Nets, it's also their chance to see Williams in action and hope to get some revenge on the Spurs. It will also mark the return of former Spur, now Nets head coach, Avery Johnson to San Antonio.

To talk about tonight's contest, I turn to fellow Bloguin blogger Victor Nash of Whoop De Damn Do. A great place for all things Nets and not to mention a great site name. Also, click HERE to read the Q&A I did for Victor.

In this Q&A, Victor talks about the recent Nets trade for Williams, Avery Johnson, how the Nets can beat the Spurs and much more.

Jeff: First of all I got to ask you about the recent trade to bring in Deron Williams from the Utah Jazz for Derrick Favors and Devin Harris. Your reaction.

Victor: As of right now, I'm ecstatic about the deal. The Nets, after much heartache over the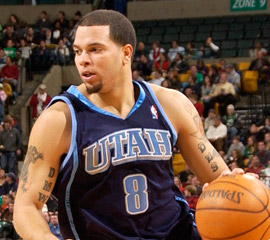 pursuit of Carmelo Anthony, were rewarded with a better player for basically the same deal, sans two first round draft picks. Williams is an obvious upgrade over Devin Harris and his youth as well as current superstar-dom puts him over Derrick Favors' potential. The Nets have a serious shot at contending if they acquire another All-Star caliber player (David West, anybody?) and are in a better position than they were before by all accounts. The only thing that worries me about the trades are the reports that claim that D-Will is unhappy. Williams is only signed through this season and the next, which indicates that this deal was a huge gamble for NJ. If Williams is clearly not content about being on the wrong side of the Hudson, the Nets could be on the wrong end off something similar to the previous Melodrama. However, let's stop with the pessimism for now. The Nets acquired a superstar in what is known as a superstars' league and are taking their first steps out of the rebuilding dome.

How has former San Antonio Spurs player now Nets head coach Avery Johnson been for New Jersey? Likes? Dislikes?