San Antonio Spurs center Tiago Splitter and Brazil got off on the right foot on the first day of the FIBA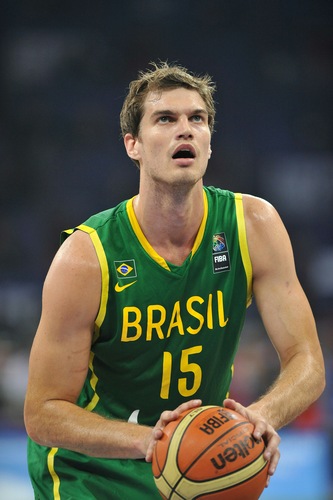 Americas Championship in Mar del Plata, Argentina.

While Venezuela looked like they might steal a game, Brazil went on a run at the right time and stepped up their defense to beat Venezuela 92-83 in a very entertaining game.

While Venezuela leaned on Grizzlies guard Greivis Vasquez through most of the game, when he was subbed out in the third quarter, Venezuela's offense collapsed while Splitter and Guilherme Giovannoni led the Brazilians on a run.

When Vasquez was re-inserted, it was too little too late and Brazil coach Ruben Magnano called for traps and double-teams to frustrate Vasquez.

Venezuela got within striking distance on a three-pointer to bring the gap to within one point 81-80. But on the ensuing possession, Brazilian guard Marcelo Machado answered back with his own three and Brazil never looked back.

While Splitter is expected to play a much bigger role for Brazil without Nene, Anderson Varejao or Leandro Barbosa, Magnano relied on a team effort instead of leaning on his core players like Eric Musselman did with Vasquez.