NEW YORK , NY - New York Knicks' Carmelo Anthony and MISSION Athletecare held a press conference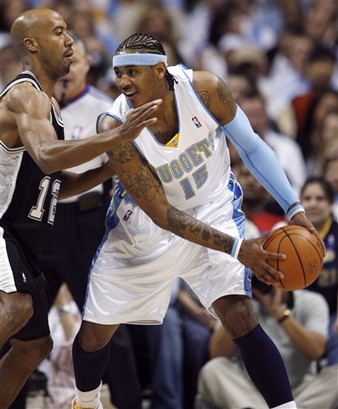 to promote his new signature "Power Grip" product. In a nutshell, it's "liquid chalk" designed to eliminate sweaty hands which often leads to a slippery grip.
After Anthony fielded some questions on the new product, I was able to ask him about his time with the Denver Nuggets and facing the San Antonio Spurs during the regular season and playoffs.
For those who remember, Spurs-Nuggets matchups were intense and often physical battles, especially in the playoffs. And even though the Spurs would usually walk away with the series victory, Anthony still knows what the Spurs are all about.
"At the end of the day, the Spurs they are an older team," said Anthony to Project Spurs. "They are a very experienced team who been through a lot since I been in this league. I been able to face them in the playoffs four times every season.
"They always been a tough, professional organization. I'm pretty sure they will do what they have to do to keep that going over there."
And when asked what his favorite memories about those classic battles, former Spur Bruce Bowen and Manu Ginobili sprang to his mind.
"I have a lot of them. Like I said I faced them multiple times. Times where me and Bruce Bowen had battles out there. Times where me and Ginobili had battles out there. It's always been some battles between Denver and San Antonio," Anthony said to Project Spurs. "I miss those days."
But when asked what were the best defensive teams he has ever faced, Anthony did not list San Antonio, "The Boston Celtics, the Lakers."
Indeed many Spurs fans also miss the Spurs' defensive days but I guess Carmelo might have forgotten about the great defensive teams he had to face during his time in Denver.
Other notes:
• Anthony on if he thinks there will be an upcoming NBA season: