Phoenix Suns' Marcin Gortat might be working on his game with one of the best big man to ever play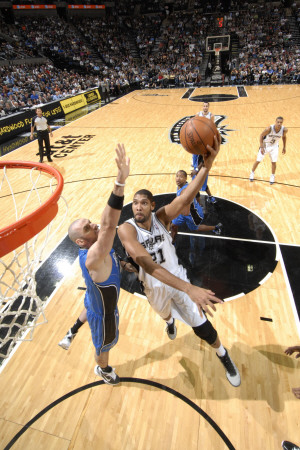 in the NBA, Hakeem Olajuwon, but when it comes to another legendary NBA big man, San Antonio Spurs' Tim Duncan, Gortat has nothing but glowing praise.
Over the summer, I caught up with Gortat in New York City at Steve Nash's Showdown in Chinatown celebrity soccer match to get his views on Duncan and according to him, it took a while for Duncan to speak to him on the court.
"Well for the first time after four years, he actually spoke to me in a game so I believe that's a sign of respect which means I have improved my game in the last couple of years," said Gortat to Project Spurs.
Indeed Gortat has improved his game. Last season he averaged 10.2 points per game (13.0 in 55 games with the Suns after being traded from Orlando) and 7.9 rebounds. A far cry from his days with the Magic. Not to mention his 21 point, 13 rebound night against the Spurs late in the season.
But even though Duncan wasn't chatty with Gortat on the court for a long time, something which caught me off guard seeing how Duncan speaks with everyone, he considers Duncan an icon of the NBA and appreciates the loss to the NBA once Duncan retires.
"I believe, obviously, Tim Duncan right now is probably, if not the best, then the second best post-up player in the league. He's an icon. An icon of the NBA and I believe that if one day he is going to retire, the NBA is going to lose one of the biggest superstars in the league. He's a true role model. A guy who won championships and he's a great person. He plays fair on the court."
One thing on the minds of Spurs fans is if they have seen the last days of Duncan's dominance. Perhaps his best days are behind him, but Gortat still thinks Duncan is capable to make an impact on the court despite his decline.