Overtime needed, but Spurs rally down 18 to take 3-0 series lead over Grizzlies
"It was one of the worst starts I've ever seen," said San Antonio Spurs head coach Gregg Popovich Saturday after his team had to rally behind an 18-point deficit to take a 3-0 Western Conference Series lead over the Memphis Grizzlies in overtime.
Why was it the worst start according to Popovich? In the first quarter, his starters came out unfocused and committed eight turnovers out of the gate, to help the Grizzlies begin with a quick 5-0 run. His starters still couldn't get their act together so he pulled his entire starting five and threw out his bench midway through the quarter. When the first quarter ended, the Spurs found themselves down 29-13.
By the time the game was over in overtime, Spurs guard Manu Ginobili had this to say.
"One of the best wins I've witnessed being a Spur."
In a game that started so badly for the Spurs in a hostile environment known as the "Grindhouse," San Antonio took control for the next three quarters and overtime as they outscored the Grizzlies 91-64 after the first quarter.
The usual saying is "the Spurs go as Tony Parker goes." There was some truth to that statement Saturday as Parker was one of the earliest players struggling from the start. He had four of the Spurs' five turnovers, but picked up his effort through the remainder of the game to lead the Spurs with 26 points on 11-of-22 shooting, five assists, three steals, and seven turnovers.
Parker was responsible for five of the Spurs' 18 points in overtime. So in the end, the way he played, did set the tone for the Spurs from his rough start, to his ability to finish.
Tim Duncan followed suit with Parker as he too was responsible for two turnovers in the first quarter. Duncan pick his game up from the second quarter and beyond to finish with 24 points, 10 rebounds, five assists, two blocks, and he was responsible yet again for leading the charge in overtime, where he scored seven of the Spurs' 18 points.
According to @nbastats, Duncan is now second all-time in playoff double-doubles with 144. He passed up Wilt Chamberlin (143) and is just 13 shy of the Magic Johnson (157).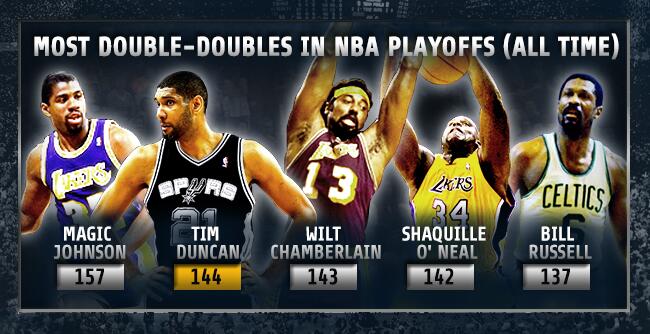 ESPN's J.A. Adande had this quote from Duncan after Duncan led his squad in overtime at the age of 37. "Am I surprised at what I'm able to do? I'm just here to play, man. I'm not worried about how old I am"
Anytime the Spurs' starters were struggling, they looked to their bench for help, and Ginobili was the constant answer Saturday. Ginobili finished with 19 points on 5-of-9 shooting, grabbed seven rebounds, and passed for five assists in the victory.
Ginobili had a chance to finish the game in the fourth quarter when the teams were tied at 86 with seconds whining down. Then, Ginobili came off a screen with the clock ticking, and he took and missed a lengthy 25-foot 3-pointer. Ginobili was angry with himself for missing the three, but his team still executed in overtime on a few Ginobili backdoor screens he credited to his head coach for drawing up.
Lastly, two years ago when the Grizzlies upset the Spurs in six games, Tiago Splitter found himself mainly as a player resting on the bench. Today, Splitter was a force on both ends of the floor as he scored six of his 11 points in the overtime period.
Splitter also helped Duncan and the other Spurs big men from allowing Zach Randolph (5-of-14 shooting) and Marc Gasol (7-of-18 shooting) from wreaking havoc as the two combined for 30 points on 32 shot attempts.
The Spurs are now in a position they never even got to last year against the Oklahoma City Thunder, being one win away from the NBA Finals.
Asked after the game if he's tired of hearing the Spurs are "old" after the game, Ginobili said the term has been there for quite some time. "We've been old for probably eight years now," said Ginobili post game. "I remember when we won our last championship in 2007 we were old."
For Popovich, the Finals are nowhere in sight in his mind and he wants to make sure his players aren't looking ahead as well.
"There's only Game four," said Popovich Saturday. "Game four is all that exists for us."
There is only game four, and game four will tip-off Monday in Memphis.
I'ld say that Splitter scored 4 points in overtime and two in garbage time.
Good win for the Spurs. A little like the way they beat the Clippers last year. I kept believing. No way we would continue to shoot below 30% and have 7 TO's/quarter.
Memphis has serious offensive problems. 93 points in 53 minutes? That simply won't do it. Pointdexter sixth foul was huge. They need him to score points.
"Grit and grind" more like smoke and mirrors.