NBA Draft: Mid-Major star Isaiah Canaan works out with Spurs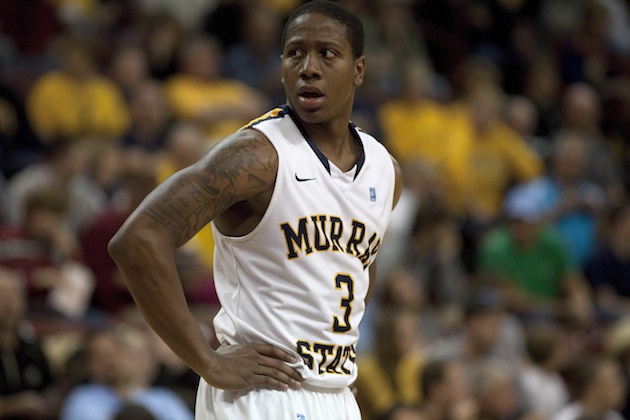 The NBA Draft is just 24 days away and the San Antonio Spurs continue to work out players projected as late first round to mid second round picks. However, instead of bringing in another swingman, the Spurs worked out Murray State point guard Isaiah Canaan.
Charles Gardner of the Milwaukee-Wisconsin Journal Sentinel writes that Canaan paid a visit to the Spurs prior to working out with the Milwaukee Bucks. Canaan averaged 21.8 points per game in his senior season for the Racers on 43 percent shooting and 37 percent shooting from 3. That was a down year for Canaan, who shot 46 percent from 3 last year. He is two time reigning Ohio Valley Conference Player of the Year and second team All American last season. Technically he's a point guard, but only averaged 4.3 assists last year. He'd be a great shooting guard if he weren't 6'1".
So that's why he's fringe first round pick, but he's a very good scorer and has a good chance to be a rotation player for a team despite his size. He's been getting a lot of buzz this spring as teams look for the next Damian Lillard, that Mid-Major diamond in the rough that can make an immediate impact on a team. Given his relative advanced experience and age compared to the rest of this year's point guard class, Canaan could be a sleeper that helps a team right away.
Having said all that, Canaan seems to be a questionable fit on the Spurs. Yes, Gary Neal is a restricted free agent, Patty Mills can opt out of his contract at the end of this season, but there seem to be bigger needs at the wing and post positions. Still should the Spurs feel comfortable letting Neal and Mills walk, Canaan has the profile to be a good replacement for either, though he is about three inches smaller than Neal.
The fact of the matter is, when you're in the NBA Finals you have a late first round draft pick and ideally you have a roster with few holes. Sometimes this allows you to take the best talent available. This might be exactly what the Spurs are doing, looking at who might be the best talent available with the 28th pick overall regardless of position. Canaan is currently ranked 33rd on Chad Ford's Big Board and is 43rd on DraftExpress'.
NO MORE UNDERSIZED GUARDS!!! Stop it already. I don't think there will be any legit big men when our pick comes up, unless we trade someone on draft day and move up to get a higher pick like in 2011 when we got Leonard. I doubt we'll do that. My top 2 picks are:
- Tony Snell, Shooting Guard. Hopefully this guy is still there when our pick happens. He's 6'7 shooting guard with a 7 ft wingspan. He's almost Kawhi-like. The difference between him and Kawhi is Kawhi was the much better defender and an average shooter coming into the NBA while Snell is the much better shooter and an average defender. But Snell has the physical tools to be a good defender. He wasn't a GREAT defender in college, he was just GOOD. His long arms will help a lot with steals and altering shots. His shot is so good, though, and NBA DraftExpress says his shot is UNBLOCKABLE. His shooting motion and technique is NBA ready and very smooth. I think he's a good pick to replace Manu. If Snell becomes a solid defender, that gives us two incredibly gifted perimeter players in Kawhi and Snell. Not to mention, Leonard and Snell grew up in the same area, and went to high school together. There's already chemistry right there. 
- Mike Muscala, Center. He's not a first rounder, but apparently the man has some skill. Some scouts say he's a sleeper, some say he's not NBA material. I don't know, but he had the most double doubles his senior year. He has a great post game, a mid range shot, a solid rebounder, and solid defender. The ONLY big negative about him was he played against subpar competition in a subpar conference in college, albeit, it was still Division 1. Scouts don't know if his skills (that he frequently displayed against not so good talent) will still be the same against NBA players. If you ask me, he's more NBA ready than any international player who would just be a draft and stash. I like his game, his back to the basket game is really good, and he can pull up and hit jumpers, etc. A pretty versatile big guy. No International big man in this draft has the offensive arsenal he has right now. If you ask me, Mike Muscala's offense is ALREADY way more polished and NBA ready than Dwight Howard's, and Dwight Howard is considered the best big man in the league. 
I don't know if Tony Snell will be available when we pick, I hope he is. He looks like a late first rounder. I know Muscala will still be there when we pick.