Popovich, Buford had doubts before making Ginobili a 'Spur for life'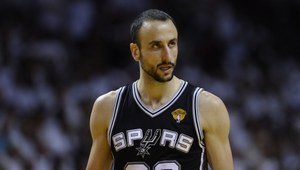 San Antonio Spurs guard Manu Ginobili is coming off one of the toughest seasons of his career. After struggling throughout the NBA Finals, many questioned whether or not he would be back.
The Spurs answered that question very early in free agency, locking Ginobili up for likely the last contract of his career in a two-year deal.
Ginobili told Deporte Tandilense (via translation) that both parties came to terms rather quickly.
"We came to a quick agreement and I'm excited and eager to go. They told me that they wanted me to be a Spur for life. I'​​m still loving what I do I'm very lucky and it's a total privilege to have played in the finals of the NBA at nearly 36, have a major role."
Ginobili said while several teams had interest in his services, there wasn't much of a chance he'd resume his career anywhere else.. He also said that Spurs coach Gregg Popovich and GM RC Buford had questions about what Ginobili could contribute, especially after looking like a shell of his former self against the Heat.
(Popovich) and Buford had told me that they had doubts about what I could give. When he expressed his desire for me to continue, I had no doubts. In the playoffs I felt that was the first time in 11 years of NBA plus 4 in Italy and 3 in Argentina that I produced a little less than I expected and it hurt. I believe I could have helped the team even more, maybe even win another ring. I want to play better in the coming season, better than in the past two years. I think I can.
While many are counting Ginobili out, a full offseason of rest before heading back to training camp could go a long way to getting him back in shape and primed for next season, where he'll look to make his performance in the NBA Finals no more than a distant memory.
What happend to that tuck the ball like running back reckless super exciting drives to basket . He lost his confidence if you ask me even his shots look sketchy . We needed the real Ginobili in the finals the guy who would never miss a clutch free throw . I just hope he gets it together and its not because he's 36. Was he hurt?
Really? I love Ginobili, but two more years of what we saw in the last championship game will be like watching Marvelous Marvin Haggler beating up on Sugar Ray Lenard all over again, but they wont be giving us a trophy for that.