Report: Donte Greene to workout for Spurs
Apparently, the San Antonio Spurs may not be too satisfied with their roster just yet.
According to Hoopsworld.com, the Spurs are interested in free agent forward Donte Greene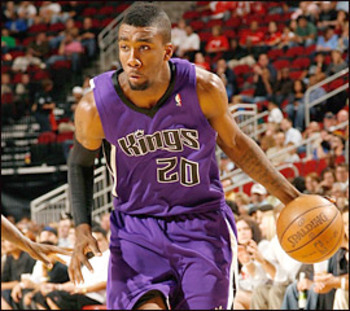 .
On January 11, Greene will begin working out for teams, according to sources. The Brooklyn Nets, San Antonio Spurs, Minnesota Timberwolves, New Orleans Hornets, Chicago Bulls and Houston Rockets have all expressed interest in Greene and discussed potential workout dates with the unrestricted free agent.
Greene was about to sign with the Brooklyn Nets this offseason but an ankle injury requiring surgery made the Nets balk at the offer.
With the Spurs having 14 players on the roster, this may be an interesting turn of events about who the Spurs may find to be expendable or not playing up to par.
The team has seen injuries to their small forwards and have been looking to add more big help for their fourth forward/center in their rotation, From that list, the Spurs are the only serious contender looking at Greene, but the Rockets are the only team who can offer him the most money since they are significantly under the salary cap.
If this guy is as smart as he needs to be to fit into our system, then he will come aboard with the spurs. He will not make the most money with the spurs, but he will become a better pro and learn what it means to be coached by the best developer of talent (at the coaching level) in the NBA. If he is as smart as he needs to be to be a spur, then this will be a no-brainer move for him. We shall see!
Pop could squeeze out all of Donte Greene's unrealized potential. He left Syracuse (too early) after his freshman year because he got his gf pregnant. This forced him into declaring early, and put him in a bad situation for him to develop in Sacramento. If he could find the right situation he could really blossom.
didnt like tonights game even though i decided not to watch all of it after a while :/. smarter teams are starting to clog the lane against us a loooot more now and arent getting calls cause theyre defending the penetration intelligently (arms straight up, dont go for the charge OR block but angle your body in a way that still influences the driver). both games we've lost recently to ny and nola have been through this tactic which has worked for them when the shooters arent clicking  from the outside like in both those games. tonight danny was 0-5 but imagine he makes 2 (thats a one point game) or 3 which makes a spurs win. in addition pop plays neal less and has a better defensive player on the floor. anyways i wouldnt go crazy about this loss. shots werent falling and the hornets had a great scouting report. 
in regards to donte greene, i love this move. the guy is a forward who is actually in shape (sorry diaw), has young/fresh legs on the perimeter (sorry jack), and who is over 6'9 with an outside jumper (im not sorry blair). he adds height on the perimeter and maybe even lets pop experiment with kawhi at the 2 (if he really is to become an offensive option, i dont see it happening from the 3 spot while parker and ginobili are still in SA). he also adds that sf that can slip to pf without giving up a lot of height or size on defense (jack has been great at that spot but itd be nice having another guy who can do it as well) and he can be a physical presence inside. so im on board with this. ive been harping for a combo forward for a while and i would love to see what donte greene can do in a great system, not the crap he was in in sacramento
I digress. Tonight is upset night. The Thunder lost to the Wizards, the Knicks fell to the Celtics and Green got a Big Fat Zero in a Spurs' losing cause to the Hornets. Did you see how their big guys play? Davis played  inspired basketball. It's a fitting welcome back to Gordon Three was too much for them. Or, the Spurs are just too TIRED after a hectic schedule. That Spurs fan got what he wished for. Like I said, I hate to see the Spurs lose. Thanks to Mgnt.
 @rtesoro440 I think you cackle with glee everytime the Spurs lose. The Spurs lost because of crappy play, and a team that was ready. They did not lose because of management.  
 You misunderstand my being critical of the Spurs. No one is sorrier than me everytime they lose. As I said, I am merely challenging the Spurs' Mgnt to sign/ upgrade its frontcourt. Writers, analysts and fans are not happy with the current lineup. You saw how the Hornets' big men played and how Splitter, Diaw, Bonner performed. And to add insult to injury Green had a Fat 0. He plays sg and plays so many minutes at least he could have 2 points. And the big men other than TD,what did they contribute? The Heat is almost a complete team, yet they continue to sign guys who play the frontline. Ever heard of the "Birdman" Andersen and Jarvis Vornado? They hopefully will be added to the Heat lineup. Not to say that they have James, Bosh and Anthony, etc. I hope the news that the Spurs are interested in Donte Greene. The guy is 6'11" and plays sf and he could help depending the rim and Omir Casspi, a 6'9" guy.