Spurs might keep Blair if right deal doesn't come along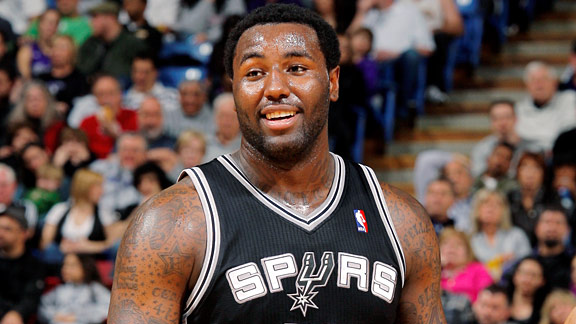 In a piece by Mike Monroe of the San Antonio Express News on Thursday, San Antonio Spurs General Manager R.C. Buford made an interesting comment regarding one of the team's possible-only disgruntled players, forward DeJuan Blair.
"We understand the way he feels," he said. "If we were in his shoes we may feel similar. Having said that, DeJuan helped us win a lot of games and we have not had anything presented to us that puts our team in a better position than moving forward with DeJuan."
As I wrote back in early July, when most of the Blair trade rumors began to surface, the Spurs have three options to make regarding Blair. They can either keep him by giving him another chance in the rotation and hope his new athletic build leads to success on the court, trade him, or release him by early January because he's on a non-guaranteed deal for the final year of his contract.
Blair has really put in a lot of effort over the summer, and as our own Jeff Garcia wrote Thursday; Blair is in a contract year. But, Blair also continues to moan and groan about his situation publicly as he released some recent Tim Tebow related comments.
My take, I think the Spurs will continue to shop Blair until the trade deadline, and even if they don't get an offer they don't think is worth trading Blair for, he's still a usable body to have on the roster. He'd probably finish the season and then become a free agent, similar to how the Spurs handled James Anderson's comments last season when a report said his agent told the team he was seeking a trade.
It's hard to predict what will happen to Blair, but in order for him to have a longer future with the silver and black, he'll most likely need to show he's added a 15-jumper and the ability to play consistent enforcing defense.
And now his crappy attitude rears its ugly head on MEDIA DAY....DITCH THIS WHINY PUNK ALREADY
I honestly think we should probably just keep Blair unless he is included in a larger package deal. What are we going to get for just him? At least we should wait until the season starts, he has lost weight, and it is is his contract year. I think he's going to put some hustle in his step to get a contract with a team next year. The Spurs should benefit from this! Blair seems to have more spring in his step than Splitter to me. If only he had the same height he wouldn't be on the bench...
 @spursfan80 I think it's actually more likely that he goes with at least one other player. His deal is so small, it makes it practically necessary. I've been saying it's likely to happen after the season starts all along..It gives the Spurs the opportunity to showcase him, teams that have injuries happen will be more likely to shop for replacements then, virtually no trades happen in last couple months up to camp, there could be a MIRACLE and DJB actually makes marked improvement enough to make the Spurs consider trying to sign him to a small deal this summer (doubtful), and , Spurs can afford to be patient and let these things happen and likely get a decent offer for him later. He does have SOME value, and Spurs realize that, especially since GSW were reported to be interested already but just didn't offer enough for Spurs to trade him. RC just said they just haven't gotten an offer YET that they are confident would be better than what DJB was worth to them. And DJB SHOULD have more spring in his step than Splitt since he is several yrs younger, has less mileage on him, doesn't have lumbering tall guy syndrome etc. He likely will put more effort in this year because of contract situation (which I hate), but that doesnt guarantee it will result in better things for the spurs. If he goes into shoot-every-time-I-get-the-rock mode, that could easily be a negative for the team. Its happened before. But I doubt Pops would let it continue if he did that, which is a good thing..nice to have options.
 Asking for a miracle STUPID? Pray hard as you could. Don't scrape your knees doing it MORON!
 So soon being tired of praying for a MIRACLE to happen SHITHEAD? You will wait for eternity for a miracle to happen KNUCKLEHEAD if ever any one team will trade for Blair.
 @rtesoro440  @spursfan80 The REAL miracle will be when you finally get to ditch the pampers for big boy pants, and then its only a 12 -15 year wait until your little acorns drop!
There are no takers, why worry? Mr. Buford sleep tight. Spursfan66, your comment!
 @rtesoro440 lol How many trades have you seen in the past couple months genius.See where I'm going? Probably not. Let's see what happens after a few teams have some of their bigs go down with injuries. As I said before, only an idiot like you would just cut a player that has SOME value rather than be a little patient and see what may come when trades actually heat up again. 99.9% of the FAs that get paid around what DJB gets paid were NOT AS GOOD AS DJB..and as I said many times before...WE ALSO HAD AN OPEN SPOT WE COULD FILL WITHOUT CUTTING DJB...Duh
 You don't know when an insult is coming BONEHEAD. It is not whether Blair has any talent or trade value or whether there are takers. Simply put HAREBRAIN, nobody is interested because he is undersized and never learned to shoot in the perimeter. And YOU clueless MORON, no matter how long it takes Blar will not be traded because there are no takers. Got it.