What are the odds the Spurs win it all?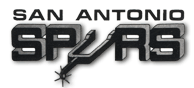 For those of you who really feel like the Spurs can win it all this year, you could make a nice chunk of change if you're convicted enough to put some money on it.
The Spurs are currently at 18/1 to win the title (h/t Dan McCarney, Express News) this year on the popular betting site Bovada. This puts them tied for fifth with the Boston Celtics.
The best odds to win it all? The Miami Heat sitting at 11/5. They're followed by the Lakers at 5/2, the Thunder at 9/2 and the Bulls at 14/1, even though they'll be playing most of their season without Derrick Rose.
In my opinion, if you're betting on anyone other than the top three, you're wasting your money.
But hey, surprises happen. If you're feeling crazy, you could even throw down a dollar or two on the Charlotte Bobcats, who are at 500/1 odds to win the championship.
The Spurs are also at 17/2 odds to win the Western Conference, even though they've done it two years in a row.
The over/under on the number of games the Spurs will win this year started at 53.5 but has already moved to 54.5 with some bad juice, which means that a lot of people must be taking the over. That's probably a smart move since the Spurs won 50 games last year with a shortened schedule that had only 66 games.
It's fun to look down the list and see how many games the "experts" think each team will win. Well, it's fun for us degenerate gamblers anyway.
vegas got things messed up. OKC behind the lakers? vegas buying into howard being 100%, nash not falling off any more then he has, and kobe not going, well kobe on everyone elses ego. 
and the spurs and CELTICS even? really? 
i think you would be foolish to not bet on the heat to repeat. they have loaded up with better talent then they had last year, AND kept what they had, minus dead weight. 
The Bulls, who might not even make the playoffs, are ranked number 3?!?