Former Spur Kerr leaves S.A. out of title picture
Steve Kerr has become a pretty well respected analyst for TNT, so his predictions for the NBA season will surely warrant some attention. Kerr seems to be agreeing with the majority of the population, narrowing it down to just a few possible teams.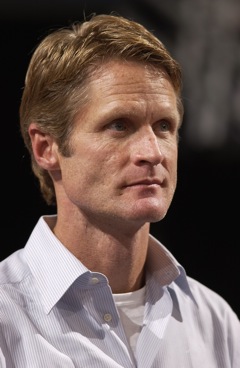 "The way Kerr sees it, there are three true championship contenders: the Heat, Lakers, and Thunder, with Los Angeles starting slowly but eventually overtaking Oklahoma City in the Western Conference."
The San Antonio Spurs are notably absent from the list. Even after winning the Western Conference two years in a row with the best record, Kerr isn't giving his former team much of a shot. You might think after playing under Coach Popovich for a few years and seeing what the team is capable of, he might at least put them on the short list, but that doesn't seem to be the case.
Since this interview with Kerr was done with a Boston news source, they asked him about the Celtics. He gave them a small glimmer of hope, but it still came back to the Heat.
"Boston has a shot, an outside chance to win the East and get to the Finals,'' Kerr said. "After that, I don't see anybody that can possibly win a title. It's hard to envision anything other than an injury to LeBron [James] from keeping [the Heat] from the Finals.
Like I said, Kerr's opinion isn't uncommon. Most people seem to be picking between the powerhouses in Los Angeles, Oklahoma City and Miami. I think if he did pick the Spurs, people would probably think he was crazy.
Well... he would probably make the same comment about the spurs. There's a shot to win the West (1st seed) and get to the WCF; but after that it's hard to envision anything other than an injury to Durant/Kobe that will keep the Thunder/Lakers from the finals. 
We have to get used to this rhetoric all season given the way the season ended last year with many people citing a passing of the torch of Tim/Tony/Manu to Durant/Westbrook/Harden.
On top of all that, we didn't make any significant off-season moves that would garner us with more respect as title contenders. 
Let's hope for a remarkable emergence of Kawhi, a healthy Tim and Manu, and a F/O move or two to better our chances.
Eh, this is not a surprise. I won't hate on Kerr for saying that. However, if you're one of the top 5 teams in the league, I think that's good enough to be considered a contender. I believe the Spurs are the 4th best team behind those three teams thus making them a contender.
isn't he the same douchebag who during the playoffs kept calling all of the bullshit calls against the Spurs "good calls"?