Popovich discusses unique qualities of Argentine players
Through his 10 years in the NBA, San Antonio Spurs' Manu Ginobili has won three NBA championships with the Spurs, been named an NBA All-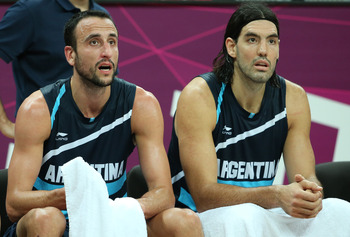 Star, been part of an all NBA team, and even won Sixth Man of the Year once in his career.
Aside from all of his individual achievements, Ginobili might have done something that won't be found in any record books.
Ginobili may have opened the door for Argentinean players to make their way into the NBA such as those who followed him like the Phoenix Suns' Luis Scola, former Spur Fabricio Oberto, the Houston Rockets' Carlos Delfino, former Philadelphia 76er Andres Nocioni, and former Charlotte Bobcat Walter Herman.
Last Thursday, another Argentinean player made his way through the doors of the AT&T Center for the first time in an NBA uniform, which was Argentina's elder 35-year old point guard Pablo Prigioni of the New York Knicks.
Before the Spurs faced off against the Knicks last Thursday, I asked Spurs head coach Gregg Popovich about the path Ginobili has paved for the Argentine players. Coach Popovich told me the Argentinean's would have eventually made it to the NBA even without Ginobili at a later date because they all have special qualities about them.
"They're all good players," said Popovich, "they still would have come even if it wasn't for Manu. He's just the first."
"They all seem to have the same heart instilled in their bodies. They're unbelievably team oriented guys and they all have an unbelievable will to win. They're all similar in that regard."
Anytime you watch any of the Argentine players take the court, you do notice a slight difference in the way they play the game as opposed to other players. Whether it's helping up a teammate who fell, or diving on the floor or into the stands for a loose ball, the Argentineans are indeed a unique breed of NBA players.
For Spurs fans though, Manu will always be one of a kind to them.
Yeah in contract to the Argentine players' "TEAM FIRST" attitude, the French players are "all ME" type, that's why they have so many NBA players to play in Olympics but never achieve certain level like the Argentina and Spain have had.
 that almost sounds like an insult  to Manu though. It may be true but Manu's success probably played a big part in making basketball more popular in that country and kids interested in playing it.