Denmon discusses pre-draft process
While certain players are lucky enough to be considered lottery locks and even top five locks in the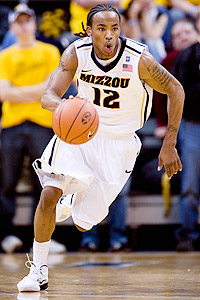 NBA Draft each summer, which lead them to not participating in combines and only working out and interviewing with a handful of teams, it is the polar opposite for players near the end of the first round or into the second round.
Some players have improved their draft stock drastically due to pre-draft workouts, but the last thing anyone would call it is easy.
After working out twice and three times a day for weeks, players usually gather up enough miles to qualify for any frequent flyer program, just to go through a grueling workout before booking another flight for another NBA city.
For recent San Antonio Spurs draftee Marcus Denmon, he wasn't even projected to be drafted. He recently chronicled his pre-draft process for Dime Magazine and talked about everything from a Minnesota hotel with a flat screen tv in the bathroom to a certain coach's wardrobe malfunction.
Denmon said he trained at UC-Santa Barbara with BDA Sports and the Peak Performance Project Sport Science facility.
I would do one workout in the morning usually around 8:00, then I'd come back and do the weight room and agility workout around 11 or 11:30 at P3 Sport Science. Then I'd come back in the afternoon at around 3:00 and work on whatever we decided to do that day. I was working out three times a day for six weeks, essentially since the season has been over.
While Denmon's name being called at number 59 to the Spurs lead to many fans scratching their heads at picking up another undersized shooting guard, Denmon said he worked on improving his ball-handling prior to the draft. If he's able to able to add play-making skills to an effective shooting game, I can see Denmon as a drive-and-dish point guard off the bench.
I would say my ballhandling and ability to play the point guard position. As far as running the team with the ball in my hands, that is something I set out to work on going into the pre-draft process and just continuing to work on all of those things I feel like I did well already.
As for what he thought stood out to NBA coaches and GMs, Denmon mentioned the one asset that could have put him ahead of other candidates, defense.
Me being a competitor, and my defense. A lot of scorers, and I was a scorer in college, a lot of scorers don't have that defensive mindset, but I have that mindset. I went into workouts and I didn't care how highly touted a guy was, I would go after them on both ends. I showed my toughness and my competitiveness I feel like.
What do you think about the Spurs selecting Denmon Spurs fans? Think he will be another late round steal for the Spurs?
Denmon has all the qualifications to wear the black and silver, he is 6'4", neither pg or sg, possibly cheap. We can't ask for more?
. At 59,I doubt that the Denman pick had anything to do with Joseph. I assume we took the BPA and not need. The big guys like Sim were goging to be available as undrafted, so why waste a pick. Denman could surprise everyone and would then be a trade asset. Joseph showed progress. He became more aggressive with playing time, plays defense and was starting to hit shots. A name to explore for PF is DJ White, a low cost D. Arthur. Is an even better defender than Arthur or Speights, good rebounder, shot blocker and mid range shooter.
Could be a nice change of pace when TP sits. I think Denmon is an insurance policy in case we lose Mills, and an indictment that we don't think Joseph is the answer. We're basically saying the Joseph pick was wasted, that we'll send him back to the Toros and hope someday he improves enough for reconsideration. I really hope we don't lose Green, he's going to be a lot harder to replace.
With Presti gone, our draft quality has dropped... Anderson and Joseph... now we're throwing Denmon at the need.
If we lose Mills, Green and Diaw... and Nando and Lorbek don't pan out... we're in the same boat as the Mavs.
 @Ironwill71 I like Mills better than Neal and CJ. He's a good situational player that can come in and get you three quick 3's if your in a bind for points then out you go back to the bench. I would bet Anderson blows up on another team. I know that's going to happen. And when that day comes it will surely suck for us.
 @TitletownX4  JohanBeijer. rtesoro. Ya'll are missing the forest for the trees... 1) Johan - I didn't say we were worse off than the Mavs, I said we're "in the same boat", meaning we're in deep trouble, have taken a big step back, and will be a worse team than last year. 2) Titletown - $1.25M on CJ to be a Toro doesn't mean we're convinced he is the next Tony Parker. It means he's the best shot we had at the time, it's what was required (and pretty affordable) to keep him on the payroll. I hope he keeps improving, that we give him some minutes with the big boys, but that doesn't mean he is or will be a star PG. I don't think the Spurs are convinced (hence Toros)... and while Denmon was the best available player on their board... why did we have PGs so high on our board? I think we liked Denmon's shooting, defense and quickness, and we are still looking for a solid backup for TP - given CJ and especially not knowing if Patty is bolting. We haven't given up on CJ yet, but he hasn't shown us much "nasty" yet. Like you, I sure like Patty a lot... and hope we keep him. 3) rtesoro - isn't it great how Denmon can be 6'1" in college, 6'3" in the draft, and now you say he's grown another inch to 6'4". I think he's really 6'2". He's already said he's a PG in the pros, and is working really hard to show he can play that for the Spurs. I like this guy and think he has more potential than CJ. I still like Patty best of these guys... Denmon looks like Gary Neal 2.0.
IMHO... I think when we sign Nando... we'll plan to have Denmon and CJ with the Toros... with Mills as TP's main backup (Nando to get minutes as well). If we can't resign Mills, we'll call up CJ or Denmon for stints to backup TP with Nando.
Lorbek is looking more unlikely (he doesn't strike me as someone passionate about the NBA, it just looks like the place he should go. With bigger money overseas, I think there's better than 50-50 that he'll play one more contract over there. However, the Spurs may say now or never. I guess it depends on the money difference. As soon as we get Duncan signed, and if Lorbek is officially flushed, we go hard after a couple FA bigs... and then audition any big that looks like they have potential... undrafted or Summer League.
I still say: If we lose Mills, Green and Diaw... and Nando and Lorbek don't pan out... we're in the same boat as the Mavs. However, it looks like we'll at least get Nando, and think there's a good chance we resign Mills, Green and Diaw. Green got much more unlikely, as he might get too big an offer now with the Celts... with Ray Allen gone to the Heat. Despite his lack of rain against the Thunder... we'll miss him a lot.
 @Ironwill71 Then why did the FO spend $1.25 mil on CJ to be a Toro? He just doesn't look like he's going to be getting significant minutes next season as a Spur so why the big payday for a rookie?
@Ironwill71 The mavs just lost their Manu in Jason Terry. And they have nothing to show for it. They are surely in a worse position than the spurs.