Parker expects energetic Mavs
The last meeting between the San Antonio Spurs and Dallas Mavericks wasn't much of a game. The Spurs came out fired up with a balanced attack that left the Mavericks in the loss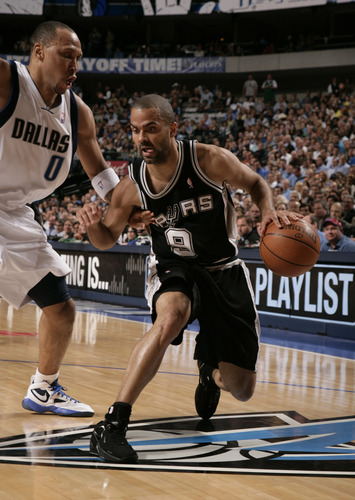 column and embarrassed as the Spurs dropped 20 three-pointers on the Mavs.
That meeting was in San Antonio on the Spurs' homecourt and tonight's game will be in Dallas with a hostile anti-Spurs crowd rallying behind them.
After Tony Parker and the his team defeated the Houston Rockets on Friday night, he knows the Spurs will have a tough away game against their in-state rivals.
"We know they are going to play with a lot of energy with them being at home. We best them pretty good here (in San Antonio) so we have to make sure to match their energy." Parker continued, "It is always tough to play a team like that but we are going to have to be ready."
Dallas will come out to avenge their loss and with star Dirk Nowitzki no longer "probable," the team will be ready for the Spurs. They've played a few games to get to know each other and build chemistry, so it won't be an easy of a win this time around. San Antonio has to come out ready from the start and playing great defense.
On Friday night, they scored 41 points against the Houston Rockets and couldn't get a stop against the high scoring backcourt of Jeremy Lin and James Harden.
Dirk Nowitzki poses a bigger threat with him being far more versatile for his position and he hasn't needed extra games to get his shooting tough back.
Dallas struggles when it comes to "Rebounding" much like ourselves but our defense and offense make up for it. When the Mavs get rebounds they can be a dangerous team "Yes" even with this "Sub-Par" team . A key to get tonight's "WIN" is to limit second chance opportunities and get rebounds. When the Mavs don't get rebounds and you stop them from second chance shots the better your chances are of defeating them if your offense is or isn't all there. 
Some think cuban is intelligent, but the moves he made after winning the championship showed otherwise.
Poor mavs. They used to be a good team.
And then the future defensive player of the year couldn't get a two-year contract because they wanted to attract Dwight Howard and Deron Williams.
 @be_Spurs Tyson Chandler was great for them. He changed the Mavs team in just one year and gave them "Attitude". Dirk "Finally" started going to the hole, Kidd was able to do what Chris Paul and Tyson Chandler had done in New Orleans with the Alley-Oops. Tyson Chandler finally gave the Mavs a "Legit Center" who rebounded and played like he wasn't a punk. Cuban should have looked at this way - Tyson Chandler gave Dallas something Dwight Howard never gave Orlando, a "Championship".