Duncan passes Mourning into Top 10
With two blocks in last night's loss against the Memphis Grizzlies, San Antonio Spurs' Tim Duncan has now passed Alonzo Mourning and is now in the top 10 career blocked shots list.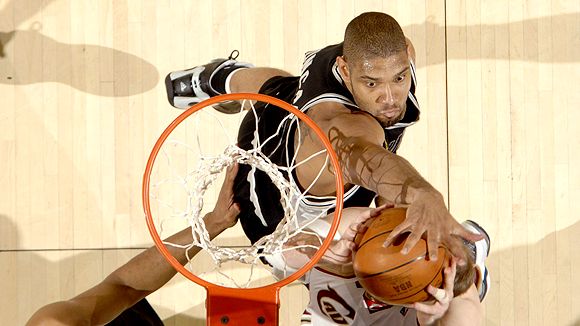 Duncan is now four blocked shots away from eclipsing Robert Parish for ninth place.
1. Hakeem Olajuwon 3830
2. Dikembe Mutombo 3289
3. Kareem Abdul-Jabbar 3189
4. Mark Eaton 3064
5. David Robinson 2954
6. Patrick Ewing 2894
7. Shaquille O'Neal 2732
8. Tree Rollins 2542
9. Robert Parish 2361
10. Tim Duncan 2358
Great accomplishment by Mr. Duncan, this just shows how great player he is.
Another great statistical feat for the Big Fundamental. Go Spurs Go!
Congrats Tim Duncan, I know you will be number 9 in career block shots this season.