Spurs looking at two Boilermakers
The San Antonio Spurs continue to look to add athleticism to their backcourt as they recently worked out guard E'Twaun Moore from Purdue and will be working out guard Chris Kramer in the summer.

Moore is scouted as a mixture of the point guard and shooting guard positions; otherwise known as a "combo" guard. According to Jeff Washburn of JCOnline.com, the Spurs recently brought Moore in for a workout as did several other NBA ball clubs.

Most NBA mock drafts have the 6-foot-4, 180-pound Moore being selected in the late second round or signing as a free agent.
Moore also has had workouts in San Antonio, Houston, Miami and Minnesota.

Washburn indicates that Moore is using the "combo" guard label to his advantage as he feels it will show NBA teams his versatility at both positions.

"Most want to see if I'm a combo guard ... that guy that can guard point guards and shooting guards," Moore said. "I want to make sure I have my ball-handling skills so that I can show I can play point guard and knock down open shots.
"If you just put yourself in one position, you may not be able to get on the court. I want to leave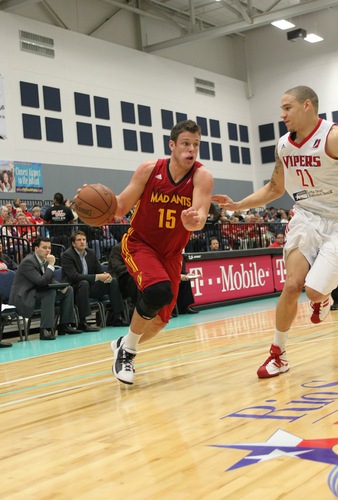 all of my options open and be able to play multiple positions."
Chris Kramer graduated from Purdue in 2010 and is also a 6'3 guard who plays both the point and shooting guard positions. Jeff Berglund of PurdueExponent.com reveals that Kramer will get another shot at making it into the NBA as he is scheduled to work out for the Spurs and other NBA teams in mini camps this summer.

He's been preparing for a four-team summer league in Charlotte, N.C., where he'll play with the Atlanta Hawks this month, and he'll also take part in mini-camp tryouts in San Antonio and Chicago.

George Hill is currently regarded as a "combo" guard on the Spurs team right now. What do you feel about the Spurs looking into another combo guard Spurs fans?

(Photos: Zimbio.com, BleacherReport.com)
Please no! No more combo guards. They already have enough combo guards, as it is. Furthermore, the Spurs should move away from this incessant infatuation with players who are undersized for their respective positions. This team STILL lacks players who possess length, size and athleticism. They need to move more in the direction of players who are longer and possess adequate or above average size for thier positions.
That said, the only Boilermaker product I want them to look at is JaJuan Johnson.
Either we're considering (at least as an option) moving one of our guards, or want them (TP/GH) to think we are.
There might be a lockout so I doubt there will be any summer leagues
@slapdoghoops this might be one of those watered down SL I been hearing about.