Room For Improvement: Matt Bonner
Matt Bonner is a unique member of the San Antonio Spurs.


He isn't necessarily your average NBA big man. On most teams, he may not even get much playing time. But with the Spurs, he's a crucial cog in the team's offense.
Having Bonner on the floor helps the team on offense because he is able to open the paint by hanging out on the perimeter, which leaves room for the penetrating guards to wreak havoc and either score or kick out to the shooters.
However, using Bonner is a gamble. He is built as a 6'10, 235 pound power forward that is undersized on the defensive end. He lacks the body size to stop heavier centers and forwards from being dominant in the paint and he isn't fast enough to stop athletic forwards from escaping his sight and going up for an alley-oop dunk.
Is this Bonner's fault? No it's not his fault his offensive skill set matches the Spurs' offensive system so well yet hurts the team on the other side of the ball.
We know what Bonner can do, so now how can he improve?
The first place Bonner can look to improve is on the offensive end with his shooting. Here are his regular season statistics:
Regular Season: 66 GP, 21.7 MPG, 7.3 PPG, 3.6 RBD (2.7 Defensive), 46% FG, 46% 3PT (1.6/3.5 3PT), 0.32 BLK, 1.7 FPG, +13.5 PER.
To shoot 46% from three-point distance is really good in the NBA, but Bonner's shot percentage did decline toward the end of the season. If you observe the chart below, the gap between three point shots made and shots attempted began to widen toward the end.
So then what happened when the playoffs came?
A lot of the limited shots that Bonner was given didn't fall. For every one shot that went in, he'd miss two. In the playoffs, the opportunity for open shots became scarce as the Grizzlies' defense on the perimeter really limited the Spurs' penetrate-and-kick game.
As you can see from his playoff averages, Bonner's three point percentage decreased by 13% in the playoffs.
Playoffs: 6 GP, 20.5 mpg, 6.3 ppg, 3.2 rbd, 48% FG, 33% 3PT (1/3 3PT), 0.17 blk, 3 FPG.
Here's a sequence from game one of the playoffs versus Memphis. Tony Parker drives the ball inward. Matt Bonner is circled in green.



Parker will then get consumed by the defense and kick out to a wide-open Bonner for the three pointer.


During this play, Bonner did connect on the three. You see, in the Spurs' offense, that's merely what Bonner has to do on the offensive end. Run out to the perimeter, float around, and if the ball comes to you, well, shoot it.

Bonner accounts for 13.39% of the team's offense. He's usually merely the third or fourth option when he is on the floor. Plays aren't necessarily designed for him, so he must make the highest percentage of shots that he can.
To illustrate this, watch this play from game four versus Memphis. Tim Duncan sets a screen for Parker, who will either be looking to penetrate and get to the rim or feed Duncan. Those are the two options that the play is designed for, however, Memphis shuts off Parker's penetrating lane and Duncan's roll out lane.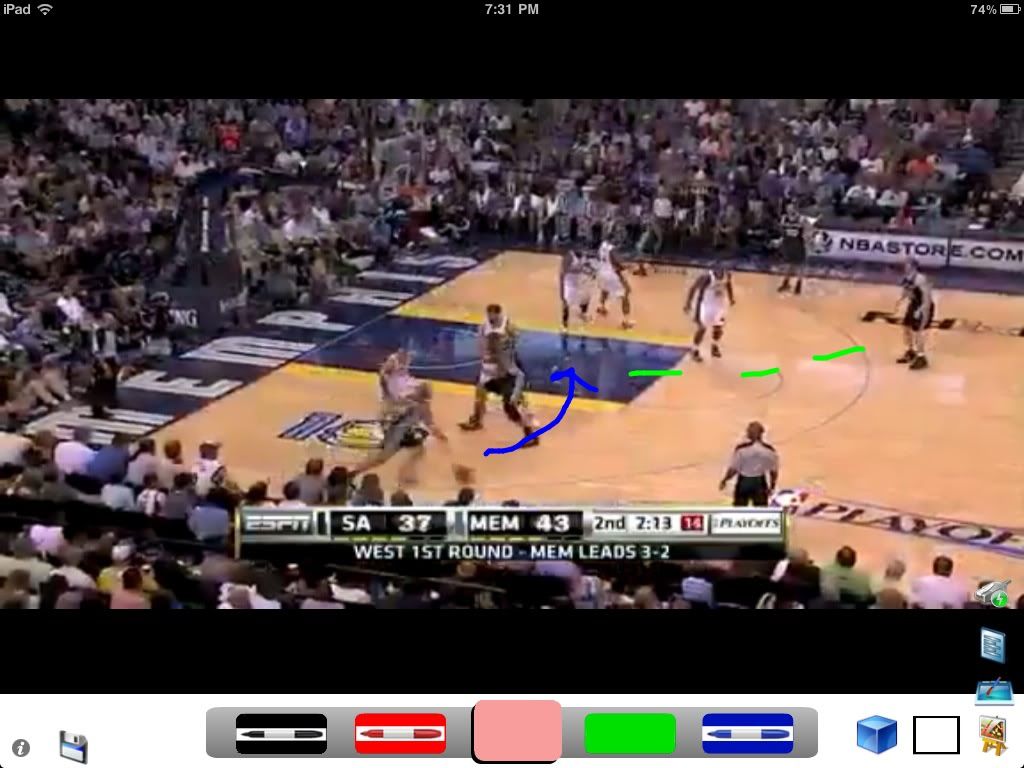 Thus, Parker has to use his third option in kicking out to Bonner who is in position and ready to fire.

The next area where Bonner will need to improve is the defensive end. As stated earlier, he doesn't have the physical frame to stop the likes of players like Zach Randolph or Andrew Bynum. He may try putting more muscle on this summer but he's already a very bulky player. Bonner will need to learn how to limit players from catching the ball in their favorite positions, so they won't have their way in the paint with him. Another technique Bonner could improve on is thinking ahead of his opponent. On several occasions an offensive post player will beat him to a position on the floor and this leads to either the offensive player scoring over Bonner or drawing a foul.
To illustrate this point, watch this play from game six. Zach Randolph gets into position to post Bonner about 15-feet away from the basket.

"Z-Bo" will then swing to the other side of the paint and get into his comfort zone.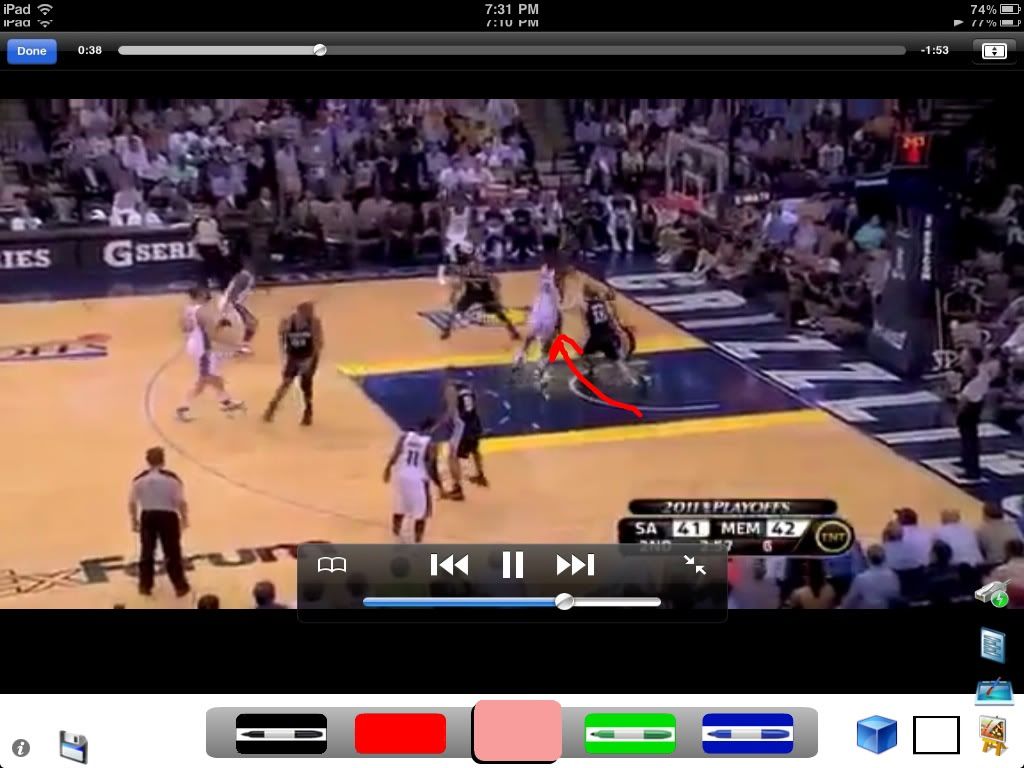 Thus scoring the basket over Bonner; who was beat before the move even took place.

If you look at Bonner's fouls per game during the season, they seem to increase as the ending of the season gets nearer.
In the playoffs, he went from fouling 1.7 times per game during the regular season to three times per game in the playoffs. Bonner is a very intelligent player; he will have to use his IQ as a counter to the lack of physical talent that makes it tough for him on the defensive end.
Bonner is still under contract for three more seasons with the team. He fits the Spurs' offensive system and will need to continue to give the production that he normally does. In the playoffs however, those three point shots are very critical and he will need to hit them with the best possible accuracy and consistency that he has next season. As far as his defensive limitations, it's unclear if the team will bring in more help on the front line, but for now Bonner must do his best to limit post player's from using their physical advantage on him to the best of his ability.
"Coach B" is a teacher for young basketball players out there; yet his greatest example will show when he becomes the "Red Rocket" on the court.

Check out the Room For Improvement series: DeJuan Blair, James Anderson, Da'Sean Butler, Danny Green, and Gary Neal.

Follow Paul on Twitter for fastest breaking Spurs news: @24writer. Email him: This email address is being protected from spambots. You need JavaScript enabled to view it. .
(Photo: Daylife.com)

I do find it interesting to see that while Bonner's 3pt % went down 13% his overall shooting% went UP 2%. Watching the games in the playoffs, it was easy to see that Bonner was being covered better on the 3pt line than he is in the regular season (Grizzlies defense was very good), but I noticed Bonner has gotten better at moving around and putting the ball on the floor to get the open shot and even making some really awkward looking drives to the basket for a lay in or a hook shot. This is also reflected in the fact that his FPG went up as well. He is not so one dimensional of a player anymore as he used to be and has grown beyond only shooting the three or long two.
His defense IS getting better, but still needs work. Then again, the Spurs have historically been better at TEAM defense than they are at individual defense. That is where the team overall needs to improve.
Good analysis and I do agree with you, Bonner has his place on the team and is a smart player. He does have room to grow on both ends of the floor, though he is a better asset to the team than he was a couple of years ago. Thanks for doing the series, really enjoying reading these.
@saITgeek here is the thing, matt bonner is 31 years old, his age says he isnt going to get MUCH better if any at all on anything. his already limited mobility is not going to improve. while an intelligent guy, his skill set isnt what the spurs need. he was put on the floor to space it and make 3s so if he isnt making 3s and is making more 2s then he isnt spreading the floor anymore and his lack of defense while slightly improved is still terrible is even more of a liability. the thing about team defense is you have to have guys who are at least passable defenders for it to work. you take a team of matt bonner, steve nash, kristic, mike redd, and kevin martin and that team will NEVER be able to learn team defense because none of those guys know how to defend individually. (yes i realize there is no true SF but thats besides the point)
now think about if this season is lost, then bonner would be 33 years old for the next season, with no coaching or training or chance to attempt to get better within the system, the bottom line is the over all best situation for the spurs is to get rid of him, ship him out for a big that can if nothing else rebound and make a half hearted attempt at 5-7 rebounds per game.
This SA offense needs to be modified some to find a big who can drive to rim. When defense picks up. Matt becomes a liability. McDyess was not able to put the ball on the floor, TD is too slow to get passed many, Blair is to sloppy and out of control, so close outs stall the offense and clogs up the paint, so .. Why not a J. Mcroberts type who can handle the ball and shoot a decent percentage that may be closer to 35% but able to make plays with the ball. The offense can't just MG, TP trying to drive and kick. Imagine Matt able to take someone off the dribble and dunk over someone, bad defense might not be so painful.All of our bigs are very limited.
the best way bonner can improve is to get traded to new jersey for kris humphris-kardashian.
now only is the KHK a better defender, but a better rebounder, and just more bulk down inside, and on top of that the spurs would surely get more national viewing so i could maybe drop that expensive ass league pass and watch more games on espn/tnt/nbatv.
@JohnAbney Couldn't agree more. in fact, you took the words right out of my mouth. THe ONLY way Bonner can improve for this team is to move him off the roster. We've all watched this same movie every spring for the past 3 seasons. We all know how it turns out. As much criticism as RJ gets - and rightfully so - Bonner seems to skate by - at least by the Spurs coaching staff. He needs to go in favor of another big who can play BOTH ends of the floor well.