Quotes from and on the Spurs
After the San Antonio Spurs win against the Houston Rockets, the Spurs' hand out to the media sheets with post game quotes from both teams. Here are few that stood out.

Rockets' guard Kyle Lowry


On if he feels the Spurs are the best team in the NBA:

"Their record says it. We've played all the top teams; their record shows it so I guess that makes them the best team. They are a pretty good team."

Rockets' forward Shane Battier

On what it is that makes the Spurs so good:

"They don't beat themselves. We were right there with them for a half and we were playing pretty good basketball.The lull that we had in the third quarter where we just couldn't answer any of their three's and their big shots create separation. We were playing from behind and it's tough because they don't make any mistakes to allow you to get back into the game. Tonight was a pretty classic textbook Spurs victory."

On Tim Duncan's game:

"He just solid and he's always in the right spot. He just knows how to play the game. You can put anyone around him and he makes them better. He's just a pillar, he is one of the few pillars in this league."

Spurs' guard Manu Ginobili


On the importance of getting a win against the Rockets before the Rodeo Road Trip:

"Very important. We're going to have nine on the road, the usual rodeo trip. It's important to finish the last home game with a win."

On whether Richard Jefferson's game better when he starts with a drive to the basket:

"Almost for every player, when you make a couple of buckets early, it helps your confidence."

On Tim Duncan's outlet passes:

"It's something that we talk a lot about in preseason and early in the season just trying to get the outlets higher so Tony [Parker] can push it. Tony is one of the fastest point guards in the league and we should be able to run even more. I think we did it very well in the first 15 to 20 games and then we kind of stopped. We've got RJ [Richard Jefferson] who is a deer and George Hill is athletic too. It's important to get some easy buckets, we need them."

Spurs' forward DeJuan Blair


On if he thought the Spurs would get 40 wins before February:

"No. I mean [I] knew we were capable of it, but I didn't think we would be at 40 wins right now. I'm speechless right now because it's just an honor to be on this team, to be on this quest to greatness, and we've just got to keep it going. It's the middle of the season, we're halfway. We still got half a season to go and then the playoffs to get to where we want to go."

On the Rodeo Road Trip with three back-to-backs:

"Rodeo Road Trip, it's going to be fun. We've got some tough ones too. It's all about focus and playing well on the road. Hopefully we play well, I know we'll play well. We got to bring our defense and our hard hats and just go hard because we've got some real good teams on the Rodeo Road Trip."

Spurs' coach Gregg Popovich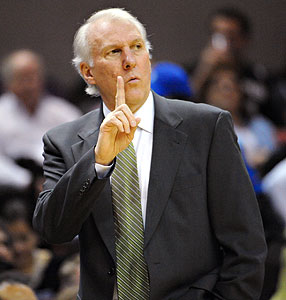 On plans for James Anderson now that he is back with the team:

"We're just going to keep trying to play the way we've been playing. We're going to try to improve and if there's a spot for him it will show itself. We're not going to force anything."

On 18 consecutive wins at home is comfortable to have:

"No coach or team thinks in terms of happy or comfort, those are not words that exist. You keep competing, executing, and trying to improve. It doesn't matter if you have the best record or the worst record."
That is why Gregg Popovich is one of the best coaches in the NBA because knows exactly what to do with his team. D. Blair is hyped watch out for the beast! Go Spurs Go!
The Spurs are playing good damn basketball! That's the bottom line!