George Hill, Gary Neal: Super subs
The San Antonio Spurs are currently first in the NBA with a record of 47-10 and are playing like an elite team. The obvious reason for that is due in large part to a healthy "Big Three." However, another reason why the Spurs are playing their best basketball in years is their reserves.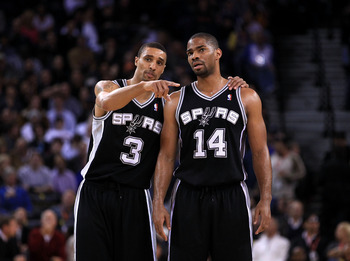 This year, the Spurs have arguably the deepest bench in the league and has made a huge difference for the Spurs this season.

But with the stretch run underway, two young players could play vital roles in the Spurs' playoff success this season -- George Hill and rookie Gary Neal.
Let's talk about George Hill first.

After a phenomenal sophomore year, the third year guard knows exactly what his role is and does it well, he is a reliable scorer off the bench and a capable defender. This season Hill has solid averages of 11 points, 2.9 rebounds and 2.3 assists in 27.5 minutes of play.

One area of his game that has improved a lot is free throw shooting. This year Hill is making 87.3% of his foul shots compared to just 77.2% last season. With his ability to attack the lane and his long wingspan, he has the ability to draw fouls from opposing players that guard him. 

Another good thing about Hill is his versatility, he can play both guard positions and is the closest thing to a lock-down perimeter defender for the Spurs. This means he can fill the backup point guard spot or play along side Tony Parker. His consistent play on both ends of the floor have certainly helped the team win some games.

Even his appearance in the starting lineup against the Washington Wizards did not seem to bother him as he scored 18 points and three assists in his only start of the season and gave Ginobili's aching body some rest.

If Hill can give Parker much needed rest in some games, and at the same time provide additional firepower and defensive tenacity off the bench, that will be huge for the Spurs.
What about Gary Neal? 
He provides excellent outside shooting and hustle on the floor. He might be a rookie but he is
playing like a seasoned veteran, and never hesitates to take open shot. 
For the season, Neal is averaging 9 points and 2.4 rebounds while shooting 44% from the floor, including 41% from beyond the arc (best among rookies) in just 19.9 minutes per ball game.

Right now, Neal is proving to be a reliable shooter with toughness something they lacked the previous season. His ability to make the open shot and his willingness to take big shots when the game is on the line will come a long way when the post season arrives.

Simply put Neal is a model of a cold blooded shooter. He never hesitates to shoot and is right on target most of the time.

How good is he playing lately? Neal has scored in double figures in the last five games averaging 14.6 points, 1.8 rebounds and 1.6 assists and has shot 60.9% from the field over that span, including 66.7% from beyond the arc. 

There is no doubt Hill and Neal has lend a big hand in the Spurs' fantastic start this season. If they can continue with their steady plays towards the playoffs, the Spurs will definitely be a tough team to beat. The energy and hustle that these guys bring to the Spurs could go a long way.

Are you impressed with Hill and Neal's performances so far? Do you agree that both players will play a vital role in the Spurs' playoff run? Share us your thoughts.
These two players are definitely great off the bench. Hill can even start for other NBA teams.
The Spurs bench is deeper this year mainly because of Gary Neal and George Hill. Neal stepped in from day one and made an impact right away. Hill for his part has embraced his role and kinda assummed Ginobili's role in the past and he is doing a good job at it. These two will really help the Spurs in the post season.
Neal and Hill are a good 1-2 punch off the bench! Hill playing on his comfort zone and the Spurs got a steal again in signing Neal.
Great writeup on Neal and Hill both players has really helped the Spurs win more games this season, I also don't have any doubts that they can help the team in the post season.
Wow! Gary Neal has been scorching hot lately I don't think he will be another Roger Mason Jr. He really shows toughness and when he is open no matter if it's crucial moments in the game you know he is not afraid to take it. George Hill has also impressed because he is consistent on offense and defense we he comes off the bench.
Right on! The bench is really one of the reason why the Spurs are still the number one team up to this point of the season. Hill, Neal, Bonner and McDyess has really stepped up. But the most pleasant surprise of them all is Gary Neal, this 26 year old rookie is really tough. I believe he will be key for us in the playoffs like George Hill did for us last year against the Mavericks.
This comment has been deleted
I don't think it is very fair to say Georges production has not improved... I mean across the board these guys are not getting a whole lot of minutes. George being able to do what he has done has been great for the spurs! I love Gary Neal too! I am just hoping he isn't another Roger Mason... Which I highly doubt he is because he has a real shooting stroke and sets up beautifully. I think Splitter is an awesome player if he could get some minutes. Lets face it he can;t get better without more playing time. I would consider shipping him to the D-League to get into shape when he does get back and that would allow him some extra playing time he isn't seeing with the spurs. James Anderson just needs some time as well, I mean you can't improve without minutes. Either way we need to hope for some good buyout opportunities as far as big men are concerned, it doesn't matter if they get a lot of playing time as long as we have them to face up better now... with OKC and LA. I know we have beat these teams but I think us thinking we can dominate all of the team is a pipe dream. I think we are able to beat a lot of these teams because we play like a real team! We are not made up of the Carmelo Anthonys of the world and I think that makes us better. Look at how far the rockets took LA in the post season a few years back, and they had none of their stars. That alone says team play is the most effective play.... GO SPURS GO!!!
@BlackSnakeStudios Hey thnaks for stopping by and hope you conintue to come back. Splitter was to be that big guy but he has not panned out. Remember it takes at least 2 full seasons for new players to get the SAS system. Look what happened to RJ. In time Splitter will be fine
@BlackSnakeStudios The problem with Splitter and Anderson is they are hit hard by injuries this season, if they can be healthy the minutes will come. I like the Spurs team as it is but if we can add a decent player via free agency, i'd take it specially if it's a big who can really defend the paint. Thanks for the comment and read.
This article is right on target, I think George Hill and Gary Neal has stepped in fill the role that was left by Manu Ginobili, the offnsive spark off the bench this season has been great. Matt Bonner is also having great year for the Spurs.
@AlexC Thanks for the compliment and yes this two guys has really more than fill up Ginobili's departure from the bench and not to overlooked Matt Bonner and McDyess has really helped the team this year. The 'Red Rocket' in particular is having one his best shooting year from behind the arc.
George Hill is one of my favorite Spurs but I think his production has not improved this season but his defense looked great at times. As far as super subs are concerned, I think Gary Neal takes the cake, he is an unheralded rookie but has provided immediate impact right away, something that most us expected from Tiago Splitter and James Anderson.
I think with the way he is playing Neal has a legit shot of getting the Sixth Man award. George Hill is the leader of the Spurs' second unit and is the best defender on the team. But Bonner and McDyess contributions off the bench can't be overlooked.
The Spurs bench has really played a big role in their success this season. Gary Neal, George Hill, McDyess and even Bonner has made the Spurs a better team. I think we have the best bench in the league right now.
Compared to last year, I am not so impressed with George Hill but he seemed to improve on the defensive end of the floor. The pleasant surprise was Gary Neal the Spurs practically signed him at a bargain for three years and not even one year he already developed as a great role player for the Spurs.
@Ramon Hill's numbers are almost similar from last year while he is playing lesser minutes that alone should be impressive. Add the fact that he getting better on defense and you should be happy on how he contibutes for the Spurs and yes locking up Gary Neal for 3 years at a bargain is one of the best moves the Spurs made this offseason.