Report: Ayon to sign with Hornets
Now that Antonio McDyess has retired, the San Antonio Spurs are left without another big man on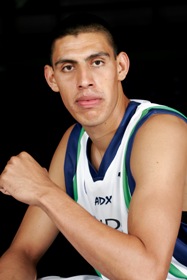 their roster. And as available free agent centers begin to dwindle, one big man the Spurs had their eyes on was Mexican forward/center Gustavo Ayon.
However, Ayon (nicknamed "The Titan") will be taking his talents to the New Orleans Hornets.
According to ESPN Deportes, Ayon will be announcing he will sign with the Hornets and buy out the remaining portion of his contract with Spanish team Baloncesto Fuenlabrada. As per NBA rules, the Hornets will pay a portion of his contract ($525,000) of his $1.5 million contract.
The 6-10 Ayon averaged 15.9 points, 8.2 rebounds in 10 games for Fuenlabrada. He is expected to sign with New Orleans for three seasons with the third season being a team option.
So scratch another possible big man the Spurs could add this season. Now that Kris Humphries is reported to re-sign with the Nets, and Samuel Dalembert expressing his desire to return to the Kings it is likely the Spurs will stand pat with the crop of big men on the roster, at least for now.
isn't fesenko still available?
The well has run dry. It was the spurs who first scouted Ayon, now he is going to the hornets. Dalembert is re-signing with the kings and humpries with the nets. Something is wrong with the spurs. They can't sign a big man of consequence. What wrong with the spurs? Money, coaching staff, mgnt? The money is concentrated to few players, coach prefers veterans to rookies, Mr. Holt a hardliner with caps? Dec. 26, when they play the grizzlies is just around the corner and no big man. Why???
@rtesoro440 it might be bc of how Holt was railing against the players during the lockout. Just a thought.